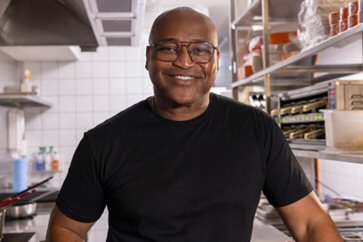 Eddie Cofie
Raised in the UK on fiery cuisine, Eddie's love of food was ignited early, starting with cooking with his mother for the large Cofie family encompassing six brothers & extended family members to cooking classes at school.
Following his culinary calling, Eddie embarked on a journey that encompassed classical French training, Australian culinary exploration, and a track record in senior chef & Executive Chef roles spanning prestigious London hotels, luxury cruises, airlines, Olympic Games, and even TV appearances.
Eddie's accomplishments are founded upon a genuine and extensive reservoir of experience within the realms of QSR, hotel chains, recruitment, training, and food manufacturing. Complemented by numerous layers of enduring industry relationships and business connections, his expertise and professional affiliations are both robust and adaptable. Eddie's dedicated team consistently delivers impressive results for their clients. Globally recognized in numerous markets, he is regarded as a vital and influential figure within the food industry. With a track record spanning well over four decades, Eddie continues to make significant contributions both locally and internationally. His commitment to excellence remains unwavering, and his impact on the food industry is nothing short of profound.
Eddie is the brainchild behind the fast-food group QSR Foodies' Pappa Flock, a culmination of diverse experiences and fervour for fine fare has led to developing menus around free range chicken tenderloins, great wings, bowls & sauces. As the Founder and Chef, Eddie orchestrates a symphony of premium ingredients and indelible flavours that define the menu.
Furthermore, Eddie serves as the Culinary Ambassador for Krio Krush Herbs, Spices & Blends. He dedicates a significant portion of his time to imparting knowledge and expertise, collaborating with a wide spectrum of foodservice entities, including renowned restaurant and hotel groups, large-scale caterers, manufacturers, stadiums, and airlines, assisting them in meeting their culinary requirements, and developing innovative flavours.
Contact: eddie@ejcfoods.com
Mobile: +61 (0) 418 218 814